Drum Repair
Morgan Drums specializes in West African drum repair including talking drums, djembes, ashikos, doundoun, peg drums, bata, doumbek and many other types of world percussion instruments. If you have a drum with a broken skin head we will be happy to give you a quote on fixing it.
Contact Morgan Drums at morgan@morgandrums.com or 763-444-4420 (9 AM - 8 PM, CST)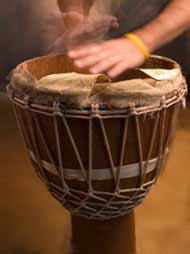 We have a full service workshop with a knowledgeable and helpful staff of drum mechanics. We will help you access the full potential of your musical instrument and give you options on what repairs or improvements will be best for your budget. We look at the structural integrity of your drum, wood density and thickness, the cut of the body and shape of the edges, ring size and fit, and the tuning qualities. We strive to personalize each job we do by giving your drum a special sound in tune with the music it was made to play.
If you can bring or send your drum us we guarantee we will fix it and make it sound better than ever. We are able to fix cracks or replace whole sections of a wood drum body, fix or replace tuning systems, carve wood shells to a smooth and even thickness, and help you determine what thickness and type of skin will produce the sound you want. We don't just repair drums; we remanufacture them.
For over 20 years we have helped professional and amateur musicians all over the world area maintain and make improvements to their drums. We have a reputation of high quality workmanship at reasonable rates and fast turn around time.
The following is a rate chart for the most common drums we work on.
Djembe & Ashiko Repair
Djembe - The djembe is a very unique drum and has an amazing range of sounds. Because of this it has become the most popular hand drum in the world. Soon it will be the most widely used hand drum, surpassing the conga. To imitate the traditional language, the djembe was developed with a high-tension tuning and wide tonal range. There are certain aspects of its construction that are required to achieve an authentic sound and a well working drum. Many djembes have been manufactured in the last ten years for the world commercial market--not all of them skillfully crafted musical instruments capable of producing decent sounds. However, most of the ones lacking certain fine points in their construction can be reworked into very respectable drums. It is Morgan Drum's duty and goal to help in fine-tuning and remanufacturing all drums into higher quality instruments.
Every djembe is unique. The prices are based on an average size and typically constructed drum. There are always exceptions and your drum will have to be inspected by our technicians for a final repair quote.
Basic repair:
Replace skin & tune three ring djembe/ashiko
85.00
Replace skin & tune four ring djembe
95.00
This includes old skin removal and replacement, reshaping of rings, minor edge truing, minor wood repairing, initial and secondary tuning of skin.
Cutting, resizing and custom fitting of existing rings
top rings
15.00
bottom ring
10.00
Fixing cracks in wood shell
varies depending on repairs needed
10.00 - 30.00
Cutting top, bottom or both edges so drum stands level and plumb
bottom
5.00
top
15.00
Replace rope
one ring
20.00
both rings
30.00
ring with cloth replacement
25.00 & 35.00
Tension rope replacement
30.00
Tension & ring rope replacement
50.00
Tension & ring rope replacement with ring cloth
55.00
Tuning
pull diamonds
5.00
pull up & downs
30.00
Ring replacement
custom fitted
10.00
general size ring
6.00
Conga Repair
Conga - This Cuban style drum has been the most popular hand drum in the U.S.A. for the last sixty years. There are many in circulation with varying shell designs and tuning systems. The conga is usually made with staves; strips of wood cut and shaped to fit together to make a tall, wide belly drum. It also usually has metal tuning hardware attached to the side of the drum. The most common repairs with the congas are cracks in the shell from mishandling or poor design or construction and head replacement. Wooden Voices is able to rebuild the most dilapidated conga into a good working instrument or tweak and fine-tune ones in better shape to bring out their best qualities. We import our cowhides from Africa and carefully select the one that will best suit your drum.
Skin replacement & tuning
Skin replacement & tuning
75.00
Includes rim and ring adjustment, edge cleaning & smoothing, hook and nut oiling, general inspection and recommendation of any drum maintenance and improvements.
Repairing cracks
Varies depending on amount and sizes
10.00 to 50.00
Refinishing of wood
Varies depending on type and finish of drum; includes removal of all hardware, sanding, oiling and, clear coat finish and putting drum back together.
100.00+
Peg Drum Repair
Peg Drum Repair
Most drums from Ghana and sabars from Senegal
80.00
Includes removal and replacement of skin, adjustment of flesh hoop, minor edge work, tuning
Other options are:
Peg replacement - Sabars and large Ghana drums
4.00/each
Peg replacement - small Ghana drum
2.00/each
Rope replacement
15.00
General wood repair - varies depending on problems
10.00 to 40.00